Go Big Give
The  Leadership Center is participating in this year's Go Big Give event. Go Big Give is a 24-hour online event where you can donate to your favorite non-profits in four counties throughout Nebraska. It will be held on Thursday, May 7th. This year, we are raising funds for our Summer Food Program, property updates, and leadership development. You can click here to learn more. 


    Coffee, Cake, and Contributions
Join us for our 6th Annual Coffee, Cake & Contributions. We'll have delicious coffee and amazing cake from The Chocolate Bar for guests who come into donate. For those who need them, we'll have computers available to make donations on. We'll also have staff on hand to give tours and to show how the funds raised from Go Big Give has made huge impacts on our guests.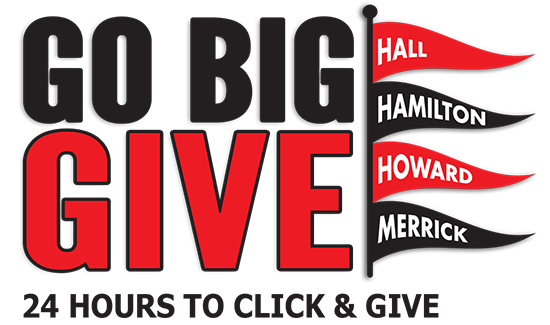 Check out Elizabeth's blog, The ABC's of TLC:
A- Agriculture
Reading about the past and present of TLC, you'll learn about the importance of agriculture to the non-profit.
B- Big Boppers
These are the ice cream cookie sandwiches TLC has. Need I say more?
C- Community
My favorite way that we got involved in the community last summer was our Summer Food Program. We had the opportunity to interact with kids in the community and have fun doing so.
We've caught spring fever in the building. It's time to lighten things up and refresh the Meals Out the Door menu for spring & summer. We have added a number of new items including: burgers, mac & cheese, diced sweet potatoes and pasta with meatballs. You can find the newest menu by clicking here.
Meals Out the Door is perfect for busy families, people looking to make meal planning work for them and to add ease to people's days. We have clients of all sorts that take advantage of our meals. Some are teachers, others nurses or retirees, a few are farm families trying to make sure there are easy meals available in both the fridge and the freezer for field season. Other are parents who want to make sure everyone has a healthy meal to fuel their busy schedules. No matter who you are, we're happy to cook for you!
If you have questions, do not hesitate to contact us at 402-694-3934. Orders can be dropped off, called in or texted to 320-420-6424. We'll need 24 hours to prep your meals, but we promise they will be both easy and delicious!
The program that really started it all, D4LC: Explore Conference is in its 5th year. Designed for youth and young adults ages 13 to 19, D4LC: Explore Conference consists of two days of leadership education, practice, and reflection in the areas of Community, Service, Relationships, Interpersonal Development, Gratitude, and more. We include an emphasis on professional etiquette, physical activity, and healthy lifestyles as well.
MAPS: Youth Team Experience
MAPS: Youth is for leadership teams looking to set their agenda for success. Through a number of facilitated activities, teams get to know each other and set their purpose. Together, they plan their communication, accountability, calendars, events and more.
We offering 2 and 3 day experiences this summer for up to 3 teams each date. While teams may differ in make up, organization representation, and mission; fundamentally, teams work the same. During our Maps: Youth Team Experience, we will facilitate concepts in large groups, allow for guided individual group work and collaboration as well engaging group conversations and problem solving. Each team in attendance will also get one-on-one time with our facilitators. This unique set-up will offer the teams that attend a community of perspective, encouragement, inspiration and support. Attendance is limited. 
2020 Dates
June 1-3, 2020
(Room for 1 team available.)
June 4-5, 2020
(Room for 3 teams available.)
June 17-19, 2020
(Room for 3 teams available.)
June 22-24, 2020
(Room for 3 teams available.)
July 6-7, 2020
(Room for 3 teams available.
Navigate Day Camp
We are so excited to be introducing a new day camp this summer! Navigate Day Camp will be 5 days long (Monday-Friday) from 9:15 to 4 p.m. for students in 6th – 10th grade. Areas covered during the camp include Leadership, Challenges, Stress, and Kindness. Attendees will receive an incredible day camp experience facilitated by The Leadership Center's D4LC Staff that is hands-on, engaging and individualized while nurturing a community approach. It will be FUN as well as educational. While each day will include learning in our classroom, we'll also spend time in the gym and outdoors.  Registration is open. We hope you'll join us for this cool experience.
Camp Traverse
Also new this summer is Camp Traverse. It's our new sleep over summer camp! Traverse means to come to, go through and arrive on the other side, changed. Through their weeklong Camp Traverse journey, campers will be provided with experiential learning opportunities that introduce them to several disciplines, topics and people in a unique format. While much of camp will take place at The Leadership Center, we will be visiting the Edgerton Explorit Science Center, The Bay in Lincoln and more. Camp Traverse is for youth in grades 7 to 12 and each session is limited to 25 campers. This unique set-up allows campers to shine individually as well as work collaboratively, freely and safely in small groups and as a community. All of Camp Traverse, on site or off site, will be facilitated by and with TLC's D4LC education team. Registration is open.
**Campers are welcome to attend more than one session of Camp Traverse and weekend excursions will be offered.
2020 Dates
July 6-11
July 13-18
July 20-25
July 27-August 1
May 7
Go Big Give
Coffee, Cake, and Contributions
9AM-11AM
June 16
TLC Patio Party
August 6
TLC Movie Night
September 10
Bourbon & Cigar Night
October 3
TLC Tailgate
November 21 
Harvest Gala Fundraiser
Copyright © *|CURRENT_YEAR|* *|LIST:COMPANY|*, All rights reserved.
*|IFNOT:ARCHIVE_PAGE|*
*|LIST:DESCRIPTION|*
Our mailing address is:
*|HTML:LIST_ADDRESS_HTML|* *|END:IF|*
Want to change how you receive these emails?
You can update your preferences or unsubscribe from this list.
*|IF:REWARDS|* *|HTML:REWARDS|*
*|END:IF|*