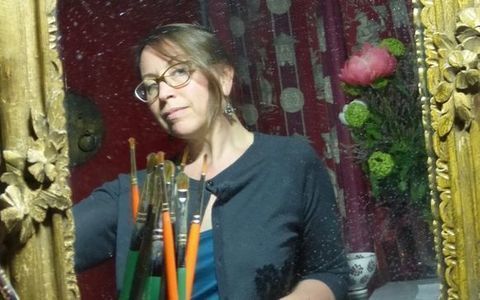 2022 T.L.C. Fall Art Workshop Artist Instructor
Laura Nothern (Oils-Figures) is a contemporary, figurative artist whose allegorical paintings look back to classical, mythological narratives and update them for the 21st century.  
Her work explores our inner nature, making visible a "dreaming reality". Through her art, she seeks to express the mythic themes that play out beneath the surface of our seemingly mundane lives. She has been looking back at Nicolas Poussin, Peter Paul Rubens, and Gustave Moreau, as well as contemporary painters like John Currin and Adam Miller.  Like them, Laura values the traditional materials and methods of oil painting for the connection they imply to history, and the visual dialogue they open up between past and present.  
Nothern works mostly in oil paint and charcoal, using traditional methods, ideas of form and composition, and she mix it with a contemporary sensibility.  Her works are grounded in drawing make from life, which I then alter and "dream into" - overlaying them with memories, mythological or fairy tale narratives, and visual quotations from art history.  This practice keeps me rooted in the visual discourse (history) of painting, while giving her a framework for reimagining the present.  
Although she's been painting and drawing all her life, Laura's formal art education began at the University of NE, Lincoln (BFA'94). After graduating, she continued painting and started selling works through galleries and to private collectors.
In 2011 she traveled to study at Studio Escalier in France. While there, she invested herself in three year's practice of a contemporary classical approach to painting the figure from life. She also devoted time to making drawings from the artworks in the Louvre. Also, she focused my attention mostly on 15-18th C paintings, and especially Rubens.
Laura is currently residing in Omaha, NE - painting, drawing, making prints, and teaching (through her private studio and Joslyn Art Museum).