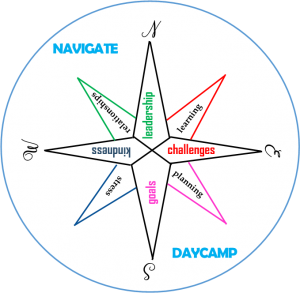 Navigate Day Camp
Navigate Day Camp offers you the opportunity to chart YOUR course through experiential learning. Throughout each day of camp, you'll learn how to navigate lessons with your own personal leadership compass!
Areas that lessons will en"compass":
Leadership

Learning leadership skills and ways to incorporate them in to your life.

Challenges

Planning and preparing yourself so that when you face challenges,  you can do so with confidence.

Goals

Stress steals success when it isn't managed. Stress shows up in all kinds of ways. It's best to know what your goals are, what stresses you are facing, and how to work through it to achieve the success you are seeking.

Kindness

Relationships are the gems of life. Learning how to be a good friend, how to build healthy relationships, and how to let bad ones go are crucial to a long happy life. Kindness is the key.
Through Navigate Day Camp, we will provide campers the opportunities to learn and practice the necessary skills to navigate their leadership journey in a safe community setting where each attendee will be seen, heard, and valued.
Navigate Day Camp is geared towards students in 5th-10th grade. This Camp will be 5 days long (Monday-Friday) from 9:15 to 4 p.m. and hosted at The Leadership Center, 2211 Q Street, Aurora, NE 68818. The day will begin with check-in at 9:15 each day with camp kicking off at 9:30 a.m. and wrapping up at 4:00 p.m. We will serve lunch and snacks each day.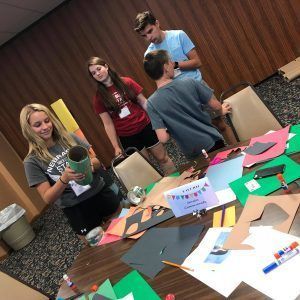 Attendees will not only receive an incredible day camp experience facilitated by The Leadership Center's D4LC Staff that is hands-on, engaging and individualized while nurturing a community approach, it will be FUN as well as educational. While each day will include learning in our classroom, we'll also spend time in the gym and outdoors. Other activities will include arts & crafts, swimming, kayaking/canoeing/ paddle boating, and fishing. Schedules will be sent to campers 1 week before camp via email. They will also be available here on this page!
On the last day, our campers will host a Navigate Day Camp Showcase and reception for parents, sponsors and friends at 2:30 p.m.
Navigate Day Camp will not be held in 2022.