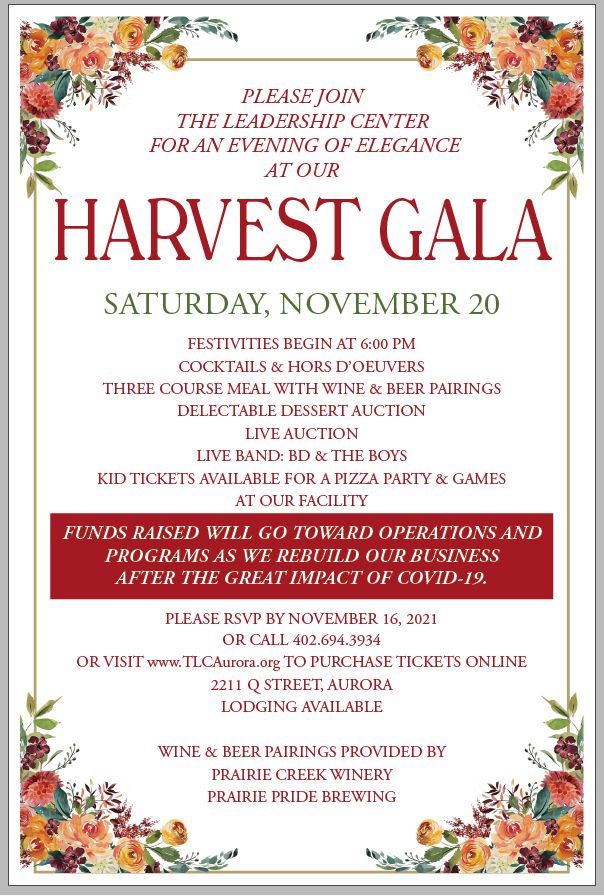 The leaves are falling. The temps are cooling down and harvest is nearing the end. That can only mean one thing: it's Harvest Gala time!
While John, Elizabeth, and I have been brainstorming and planning things for months now. We are so excited because the menu has been selected, invitations have been designed, printed and mailed out, and we're busy putting together great auctions and making the decorations! We are so excited. 
We hope you all are making plans to join us for the 7th Annual Harvest Gala on November 20th at 6 p.m., right here at The Leadership Center. 
Now we know, deer hunting is swing. We also know that there is a Husker football game that day! You can't hunt at night and if there is a game on during the Gala, we promise that it will be shown. Go Big Red!
Cocktail hour begins at 6. Dinner will be served at 7:15. Auctions should be starting around 8 and then there is dancing to the fine tunes of BD and The Boys. 
We are serving some phenomenal food. Executive Chef, John Boeder, and his team are planning an amazing meal. The menu includes hors d'oeuvres during the 6 o'clock year. We promise a beautiful charcuterie board with some of the most amazing cheeses, our signature stuffed mushrooms and meatballs, and more. The bar will be serving wine from Prairie Creek Vineyard and beer from Prairie Pride Brewery.
The main course will be plated and served by the amazing volunteers from the Aurora National Honor Society. Dinner will include a salad topped with almonds and blood orange vinaigrette, grapefruit basil sorbet, sirloin steak & shrimp, garlic mashed potatoes, braised asparagus, and fresh baked baguette with herbed butter. These will be complimented with wine and beer on your tables. 
The desserts will be showcased and sold on the auction along with some incredible items. As of now, we know that we have the following donated:
Lithuanian Torte
Karen's amazing cheesecake
Executive Chef, John Boeder's carrot cake
Luxury Vacation Home Getaway for up to Eight People in Manzanillo, Mexico. Seven night stay in a 5,000 square foot luxury home with staff in a private, gated, oceanside community

Package includes a house manager, personal chef, and cleaning crew to provide you with a once in a lifetime vacation experience! It does not include flight. Click on the links for info or to see a video.
A weekend in Kansas City with gift certificates to Garozzo's, O'Dowd's Gastropub, Arthur Bryant's, Made in Kansas City, and AirBnB as well as a Tom's Town Distilling Co. sampler and high ball glasses.
A Culinary Experience for 6 with T.L.C. Executive Chef, John Boeder
A pair of tickets to Husker Men's Basketball with pair to 3 games of the buyers choice.
A beautiful queen size quilt.
This is just a sampling! 
We will also be offering to-go meals to be picked up at 6:30 p.m. on November 20th for those who do not feel comfortable attending in person. 
For parents, we are offering kid's tickets for $15.00. Kids will get homemade pizza, decorate your own cupcakes and fun in the Edgerton Explorit Zone, which will be located in the gym at TLC.
Tickets, sponsorships and donations can all be purchased HERE or give us a jingle at 402-694-3934! We're happy to help.
We hope you'll join us for an evening of fundraising and celebration.
Thank you!
Maile