For years we have created moments that matter through catering, hosting events and serving guests. We are excited to offer this daily to the community through coffee, a comforting smile, and of course free wifi.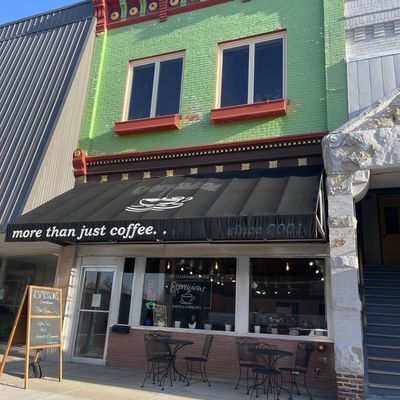 Location
1117 M Street, Aurora, NE 68818
Next to the movie theater on the square.
Hours 
Monday - Thursday: 6:30 a.m. - 7:00 p.m. 
Friday - Saturday: 6:30 a.m. - 8:00 p.m. 
We serve food from open to close. You can even call in a pick-up meal!
Birthday Parties 
All of our parties are 2 hours and up to 10 guests (chaperone required, but not included in guest count) are included in the base price.
Birthday parties are offered from Monday-Friday: 2:00-4:00 p.m. (execept Thursday) and 5:-7 p.m.; Saturday: 10:00 a.m.-Noon, 2-4 p.m., and 5-7 p.m.
Cupcake Decorating or Sandwich Cookie Making 
Beverage for each guest 
$150 
+$10/each additional guest
Perler Bead Craft
Cupcake + Beverage for each guest
$175 
$12/each additional guest
Paint By Number Craft
Includes cupcake and beverage for each guest 
$225
$15/each additional guest
Meeting Space Rentals 
Semi-Private Room
$25 for 2 hours, seating up to 12 
Private Room 
$50 for 2 hours, seating for up to 20 or 25, depending on set-up.
*For all Semi-Private and Private Room rentals, food and beverage must be ordered through Espressions.
Entire Shop Exclusive Use 
$250 for up to 4 hours 
$500 for more than 4 hours 
**If personal food and beverages are desired, Exclusive Use prices are $350 and $600, respectively. There is no permitted use of kitchen and espresso bar.