TLC House Concert featuring Patrick Sampson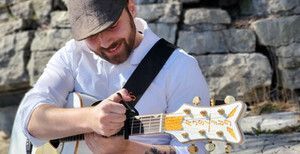 In partnership with BeNt Shadows House Conterts & Cindy McClellan, we are hosting a house concert at Espressions: Coffee & Community featuring a really cool band called Patrick Sampson.
With the show at Espressions, we will offer the full food and beverage menu to order from if you'd like. We will still ask for a suggested $20 donation at the door for the show. All funds collected will go to the artist. We hope you'll come enjoy the show!
At the intermission, we'll offer a selection of tasty baked goods (including a few gluten free ones) and coffee or tea for all to enjoy.
Now more about Patrick Sampson:
Singer-songwriter-guitarist Patrick Sampson is familiar with the meaning of polar opposites. That's because Patrick is barely in his 20s, but he's been channeling the maturity of an older, seasoned songwriter ever since he wrote his first song at the age of 15. The depth of his lyrics and storytelling abilities could've been created by songwriters at least twice his age.
Some fans have even compared him to John Mayer. Patrick can reel you in with a soothing, very personal acoustic song, then change lanes and tear things up on his Gretsch electric guitar (Patrick became one of Gretsch's youngest Endorsed Artists at the ripe old age of 17).
Overlay a multi-octave voice that doesn't sound like anyone else in the business, and there's only one word to describe Patrick Sampson: Unique. It's no wonder the Watertown, New York native has been called a younger version of James Taylor, Gary Clark Jr., Tracy Chapman, and other gifted storytelling musicians.
Patrick's limitless creativity, warm personality, and his ability to create personal song-stories that emotionally connect with people has grown his fan base to over 100,000 followers on Facebook, Instagram, and YouTube.
After releasing his first album, The Wanderer, in 2016, and several singles including Good Guys, Gentle Conversation, and Fly With Her, Patrick set his boundless energy on his most ambitious musical project to date: a 17-song album project entitled Altrove.
Recorded at his home studio and released in 2020, Altrove (which is Italian for "somewhere else"), is an impressive musical statement and body of work. Inspired by different parts of Patrick's life over a four-year period, Altrove is a deeply personal song cycle that definitely takes the listener somewhere else: from a red room in an old house, to Barcelona, and even to Saturn.
Since then, Patrick has released four singles: A Thousand, Mention Any Meaning, Tears of Amber and his most captivating and personal song story to date: Nursing Heart, for his upcoming album to be released in 2023. Patrick has also played listening rooms/house concerts in several states and wants nothing more than to expand saying: "I want to keep making new friends through my music!"
When you combine his natural knack for melody, a smooth voice, his guitar playing ability, and his poetic, sometimes cinematic style of lyrics and storylines, you can understand why Patrick Sampson is considered one of today's brightest stars.
Again, suggested donation at the door for Patirck Sampson is $20.00. All funds collected will go to the artist.