TLC House Concert featuring Good Morning Bedlam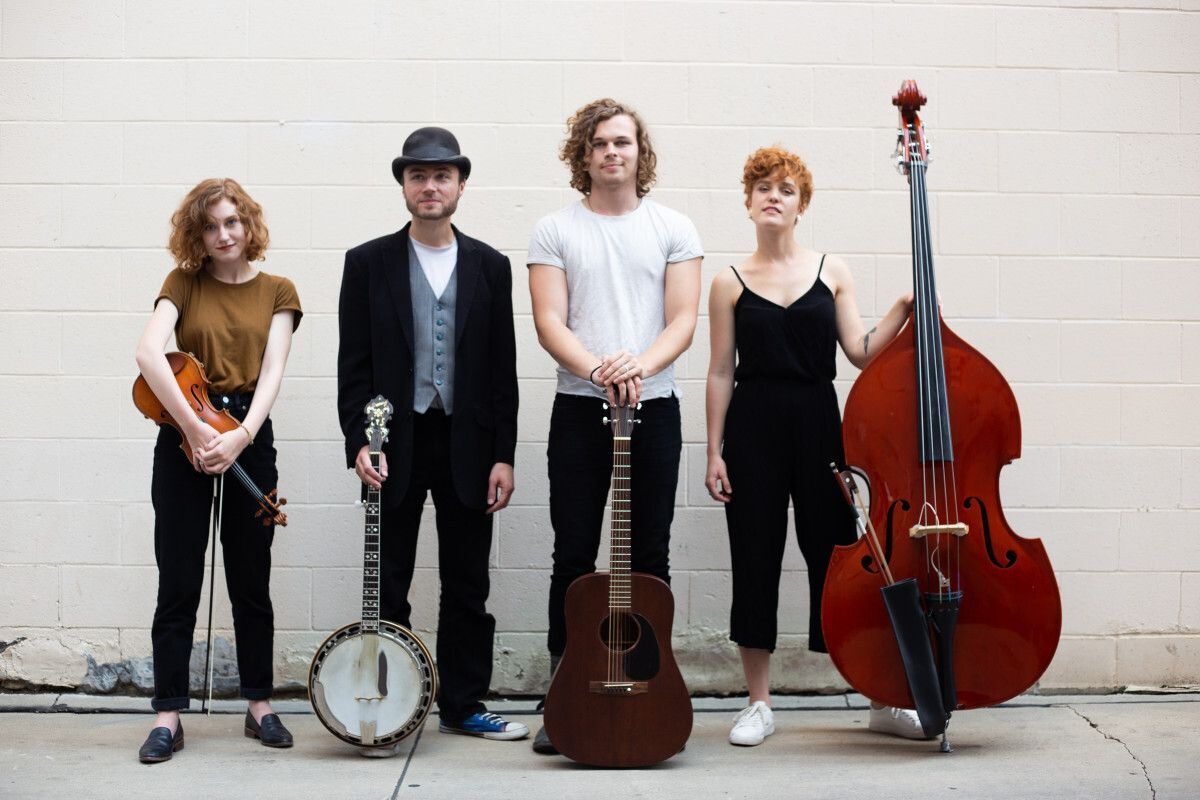 In partnership with BeNt Shadows House Conterts & Cindy McClellan, we are hosting a house concert at The Leadership Center featuring the ever talented Good Morning Bedlam.
A meal will be served from 6:30-7:30 p.m. and the house concert will take place from 7:30-9:30 p.m. The show will take place in our Lakeside room, fire side. We will offer spaced out seating, both soft seating as well as tables & chairs. As with Cindy's House Concerts, it is BYOB if you'd like and a suggested donation of $20.00. All funds collected at the door, will go to the artist.
We are doing personal pan pizzas with a salad and beverage for $10.00 per person. The menu is below. We will have gluten-free and plant-based options available! Dinner is from 6:30-7:30 p.m.
At the intermission, we'll offer a selection of tasty baked goods (including a few gluten free ones) and coffee or tea for all to enjoy.
Now more about Good Morning Bedlam. Here is their bio:
Good Morning Bedlam has become an innovative force in the midwest folk scene. Their shows are known for their contagious energy, with members careening about the stage. With tight soaring three part harmonies, and thumping kick-drum, they captivate their audience night after night. Every song is a unique twist on what is generally dubbed as folk music. "We want to surprise our audience from song to song. Rather than creating our music to fit a genre, we allow it to be an outpouring of our own stories and unique sound," says Isaak, frontman of GMB. You will be treated to a haunting waltz, whistling, jazz scatting, and the euphoria of the violin melodies. When it comes to their lyrical storytelling, Isaak says, "We're desperate to connect to people through the common human experiences that we write about and the exuberance of our live show. People have a lot of choices of how they'll kick-back, so we intend to deliver a show where they can be free--to share in whatever they need to--joy, grief, anger, gratefulness, or bedlam!"
Good Morning Bedlam played a 200 plus show tour in 2019 before the COVID-19 shutdown, claiming the first-place title at the John Hartford Memorial Festival Band Competition, and were finalists at the NWSS Band Competition. GMB has played at festivals alongside artists such as Shakey Graves, Sam Bush, Jason Isabell, The Infamous Stringdusters, Trampled By Turtles and others. In 2021 GMB ran a successful Kickstarter in July of 2021 for their much anticipated third full-length record 'Lulu' where fans from around the world pledged a total of $34,000. GMB has been featured on Bluegrass Today, Relix Magazine, Glide Magazine, Entertainment Tonight, and Under the Radar Magazine.
REVIEWS
"Seriously amazing. Awesome sound, harmony, and chemistry. So talented!" -Vanessa (Fan)
"Beautifully crafted roots music with range and depth. Catch them live and you'll understand why people love them so much." -Rick (Fan)
"Such talented musicians. The lyrics tell a story, lively entertainers that draw you into all of their tales. A great mixture of upbeat/celebratory and pensive/reflective. Their shows are always a fun journey." -Stacy (Fan)
"Minneapolis-based Good Morning Bedlam has a beautiful rootsy folk authenticity that's absolutely integral to the success of the genre." -Nick Warren (Erie Reader)
"These guys played at the bar that I work at last night in Mankato, MN. It was probably one of my favorite acts i've seen come through! I couldn't get enough of their tunes and they were also incredibly kind. Can't wait to see what their future holds!" -Courtney (Nakato Bar & Grill, Mankato, MN)
Best thing since sliced bread! If you can catch one of their shows you will not be disappointed - so much energy on stage and an amazing mix of folk sounds old and new. If they were a drink they'd be a double G&T in a hi-ball with LOTS of limes. Classy with a huge punch! - Daniel (fan)
"I was lucky enough to have GMB play at my wedding. The dance floor was packed for their entire set, and everyone told me how amazing they were. If you have the chance to catch them, do it. You will love their sound and energy!" -Marcella (Fan)
"This is an amazing group of talented musicians! Their music will have you crying, dancing for joy, and singing your heart out! They will be a band you will never stop wanting to listen to! I know I never do!" - Leah Beth (fan)
"Wow!!! Tonight was my first time seeing Good Morning Bedlam and they were amazing! The music was gold, and it was easy to see that they put their heart and soul into everything they did. It was a wonderful experience to be a part of! I'm so happy to have seen you all perform. Keep up the wonderful work!" - Nicole (fan)