3rd Annual T.L.C. Aggie Family & Fun Weekend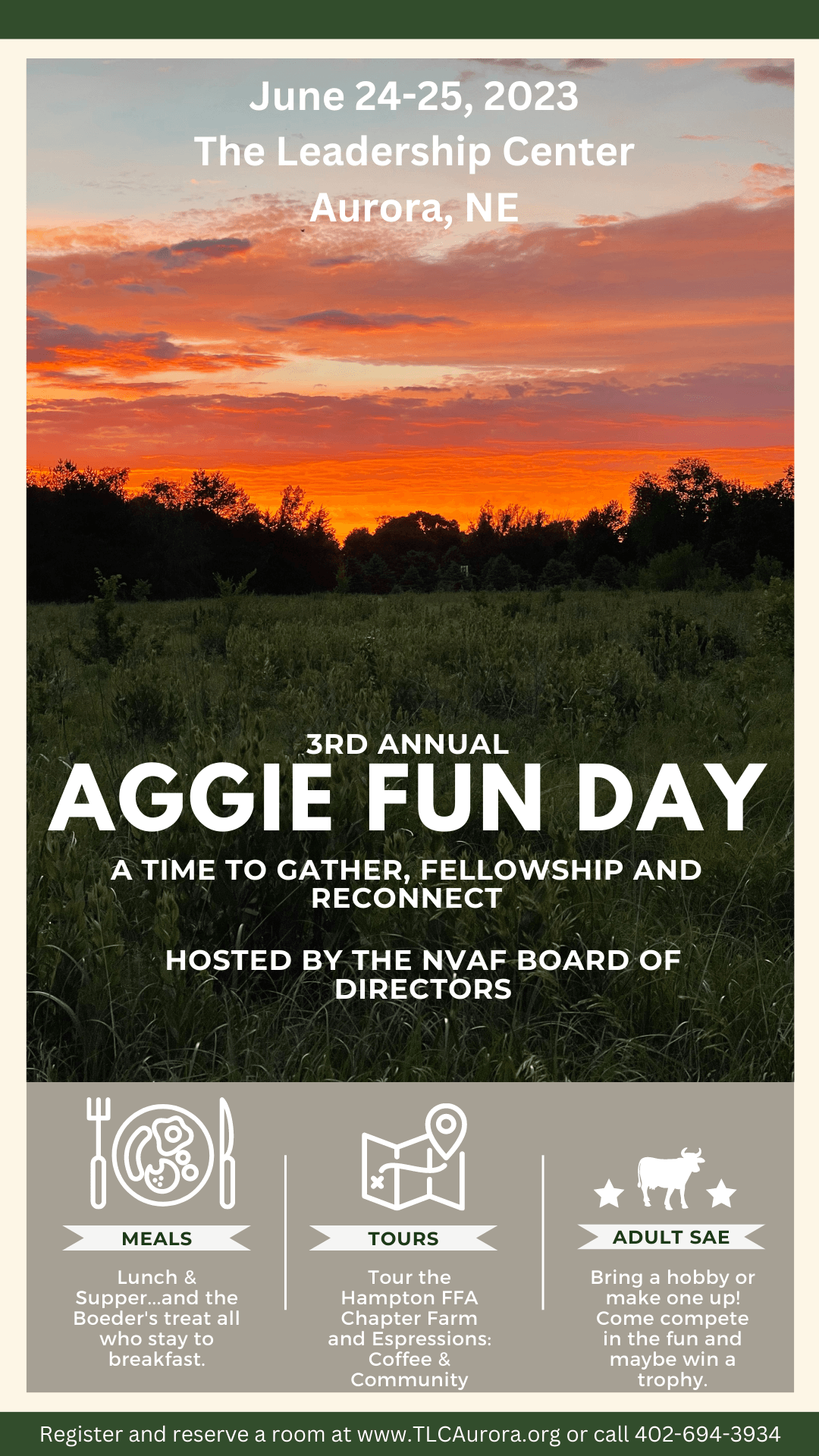 The Nebraska Vocational Agricultural Foundation (NVAF) Board invites all current and past Nebraska Ag teachers as well as those working to earn their Ag Education degree and their families to a our annual weekend get together. This is a time to get together, chat about the old days or prospect the future, enjoy some good food and just connect as colleagues. The grounds will be available for all to enjoy. We will offer tours as well.
Tours & Conversations:
•Touring Hampton FFA with NVAF board member, Joel Miller. We'll also take a quick stop at The Leadership Center's coffee shop, Espressions: Coffee & Community. We are working on having a bus to make this easy.
•Grown-Up SAE's: Bring something with that shows us your "grown up" SAE. It could be really good or really silly, but we'd love to see it. This will be a bit of a contest and rumor has it there will be a few areas to compete with and a trophy to take home. There will be NO emails on the ListServ reminding you to load your info into AET or to ensure your applications are accurate. This will be done on a mix of the honors system and the luck of the draw!
We know you all want an example. So here is one: Maile raises quail. She will bring some quail eggs and be prepared to tell you about her SAE. She will then draw to see how she will share her SAE with the "judges". It could potentially be an extemp speech on the importance of quail poop to gardening or a potentially an interview on her "books" on her quail.
This is meant for us all to share some of the things we are up to, but also to have a good laugh and see who wins a trophy. We really do look forward to seeing what comes for show!
•telling stories of the days of old and "solving" today's problems over brews, soda pops, good food & a bonfire w/ friends!
•in the evening, on the patio, we will also be enjoying some live music from "The Midnight Wanderers."
Your event package covers a burger feed and ice cream social for lunch and a BBQ with fresh baked pies for supper as well as beverage station and amenities. For those of you who stay overnight, the Boeder's are hosting a continental brunch in the dining room from 7:30-9:30 a.m. on Sunday. Maybe they'll even serve up some quail eggs.
The pool is open as is fishing, horse shoes, cornhole, and all the recreational opportunities. So pack your swim suit, fishing pole and tackle box and of course your cooler filled with the good stuff as this weekend is also BYOB. Maile & John promise to have ice on hand to keep your beverages cold!
We're offering lodging:
Lodge rooms: Single $95.48/Multiple $119.35 per room/per night
Dorm: $23.87 per person/per night. All must provide bedding and toiletries.
You can also pitch a tent or bring your camper. Please note we do not have camper hookups. Camper or tenting is $10.00 per tent or camper. This fee is just to cover using the showers and the bathrooms.
All reservations can be done here or do over the phone.
We look forward to seeing you all!