TLC House Concert featuring The Rough & Tumble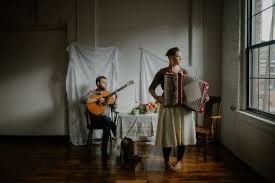 In partnership with BeNt Shadows House Conterts & Cindy McClellan, we are hosting a house concert at The Leadership Center featuring the incredible melodies of The Rough & Tumble.
A meal will be served from 6:30-7:30 p.m. and the house concert will take place from 7:30-9:30 p.m. Everything will take place in the Lakeside room, fire side. We will offer spaced out seating, both soft seating as well as tables & chairs. As with Cindy's House Concerts, it is BYOB if you'd like and a suggested donation of $20.00. All funds collected at the door, will go to the artist.
The menu and price will be published no later than 1 week before the event. We always try to have gluten-free and plant-based options available.
At the intermission, we'll offer a selection of tasty baked goods (including a few gluten free ones) and coffee or tea for all to enjoy.
Now more about The Rough & Tumble. Here is their bio: The Rough & Tumble aren't casual road dogs, but they aren't letting on, either. From their upbeat, commanding stage presence and sharp banter, to their earworm melodies and heartstring lyrics, this dumpster-folk/thriftstore Americana duo refuses to bring the haggard road-worn stereotype to their audience-- even though they've earned it.
After forming the group in 2011, Mallory Graham and Scott Tyler were feeling stuck by 2015, so they sold everything they could, bought a 16' camper and hit the road. They've been touring ever since with their two 100lb rescue dogs, in spite of multiple burnt up axles, busted tires, and consistent water leaks. Songwriters and storytellers, the on-and-off-stage duo will have you in stitches one minute and falling apart at the seams the next. Joy and sorrow, comedy and drama all have the same punchline, it's just the setup that's different. The Rough & Tumble's voices fluctuate between power and delicacy, demonstrating restraint while sinking the accelerator to give each song its due. Their close-harmony weaves interchangeably. They aren't afraid to take an audience from the lighthearted to the gut wrenching, and they do it seamlessly, with care for their listeners and integrity to their craft.
On February 19, 2021 The Rough & Tumble dig into the severed branch of their family tree, bringing their newest work, We're Only Family If You Say So, a full length record about what it takes to be family-- and what it means to lose it. With the release of the first single, fans are already Saying So. The song, "You Took Your Turn" is about singing louder in spite of being made to feel small; it's raw, emotive, and touches a nerve unfortunately familiar to listeners, particularly in the aftermath of division in both nation and families alike.
​
The new record follows on 2019's Howling Back at the Wounded Dog an album to which the response was audible, with audiences literally howling back at performances coast-to-coast. The opening track "The Hardest Part" won the Independent Music Awards' Best Americana Song of 2019. They were named 2019 artist of the year by The Listening Room Network and were an Official Showcase Artist at 2018's Southeast Regional Folk Alliance.
Again, suggested donation at the door for The Rough & Tumble. is $20.00. All funds collected will go to the artist.