"It takes a noble man to plant a seed for a tree that will someday give shade to people he may never meet."

– D. Elton Trueblood
Be a part of the Legacy..
Started in 1968 by three vocational agriculture teachers, The Nebraska Youth Leadership Development Center sat on just twenty-seven acres. It was home to only a few FFA camps a year. Forty-four years later, what is now known as The Leadership Center (TLC), sits on 43 1/2 acres and the family-friendly facilities have been used by nearly 40,000 people a year stretching from all across Nebraska, The United States, and even some countries around the world. We have been the host of weddings, family reunions, conferences, and meetings. Our guests have been given the chance to expand their leadership abilities, fulfill company ambitions, or retreat and enjoy various recreational activities, all while making life long memories.
Throughout the years, TLC has been transformed and given the chance to grow with the support of our clients, donors and people like you. The majority of our facility has been built and maintained through the generosity of numerous contributions. The Leadership Center has set high goals to continue to make our guests feel at home.
Some of these goals include:
Refurbishing Kiewit Lodge with new beds and linens
Reroofing the main building
Updating tables and chairs
Renewing kitchen utilities
Landscaping and grounds improvements
Overall update of facilities and fixtures
We have a desire to continue to offer our services for many years to come. The Leadership Center is happy to serve people like you. We invite you to be a part of our legacy. Your donation impacts not just one person, but guests for the next 20 years will be able to have great experiences like you. When donating your gift, look into your donation options. There are a wide variety of methods by which you can make a contribution to the future of The Leadership Center. You should consult your tax advisor to determine which method will work best for accomplishing your individual goals.
Donations options include:
Gifts of Cash
Gifts of Commodities
Bequests, Memorials, & Honor Gifts
Stocks, Bonds, and Mutual Funds
Land or Gifts that Can Be Used or Sold
All gifts are welcome. The Leadership Center is a 501(c)(3) non-profit organization and your contribution may be tax deductible. If you have any questions, please contact our Executive Director, Maile Ilac Boeder at 402.694.3934.
Thank you for your continued support.

2019
Aurora Wrestling Team- Donation
Cornwell Tools- Donation
NPPD- Donation
Shelby Thieszen- Donation
Nancy Kaufman- Donation
Adam Hanson- Donation
Edeal Family Gathering- Donation
Central District NACO- Donation
Aurora Day Care- Donation
Cross County FFA- Donation
Northwest FFA- Donation
Bluehill FFA- Donation
High Plains- Donation
Gerald Painter- Donation
Heibner Family- Donation
Mickey Family- Donation
Oberg Family- Donation
Gene Meigler- Donation
Myron Becker- Donation
Prairie Plains Resource Institute- Donation
Hornung Rehearsal Dinner- Donation
Central District NACO Fall Conference- Donation
Alice Johns- Donation
Yvonne Weirs- Donation
Haley Sigler- Donation
Internet update: Hamilton Telecommunications
Barb Olson- Donation
Heart Beets Garden- Vegetables for the Summer Food Program
Hamilton County Extension- Enrichment Program for Summer Food Program
Prairie Plains Resouce Institute- Trailhead to host Summer Food Program at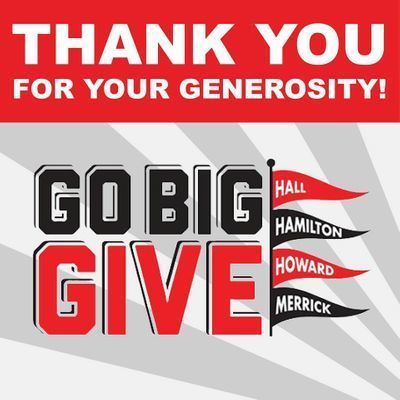 Thank you so much to all our generous donors that made this year's Go Big Give such an beautiful success. We are beyond grateful and so humbled by all those who gave of their hard earned dollars to invest in the work we do hear at The Leadership Center. Thank you very much for your gifts.
Amanda Hackenkamp
Tammi Aherns
Fillmore Central FFA Chapter
Kylie Penke
Phil Simpson & the Burwell FFA Chapter
Dand Molliconi in memory of Steve Sorenson
Steve Schmidt in memory of Catalina Schmit
Bradley Andreasen
Adam Hanson
Whitney Lehn
Sarah Whiting
Creek Valley FFA Chapter
Jessica Shelburn
ReeAnn Regier
Chad Kment
Kaydee Alexander
Ashton Bohling
Todd Reed
David Ference
Ord FFA Chapter
Marc Wittstruck in memory of Holli Whittstruck
Kris Spath
Mary Molliconi
Shelby Thieszen
Ben Robinson
Jade Burson
Jan Whitney
Seth Burge
Jessica Brondel
John Boeder
Kara Ronnau
Rick Braasch
Keith Nielson
Stephanie Miller in honor of Heartland FFA
Joe Strickland
Dave Johnson
High Plains FFA Chapter
Vicky Armstrong in memory of Ron Armstrong
Micheala Olsen
Barb Olson
Jane Nuss
Demaris Olsen
Kristen Witte
Rebecca Lawver
Thomas Dux
Fairbury FFA Chapter
Joel & Stephanie Miller
Kurt Wissenburg
Jim Morris
Chaz Boeder
Tamara Morris
Anonymous
Judy Schachenmeyer
Tom Hofmann
Anymous
Dennis Mottle
Rod Wetovick
Dave Barnard
Marlin Seeman
Twin River FFA Chapter
Kelsey Wetovick
Gene & Rose Wissenburg
Oakland Craig FFA Chapter
Maile Ilac Boeder
The Boeder Family Match Fund
The Fifth Annual Harvest Gala
Our 5th Annual Harvest Gala was the most successful Gala yet. We raised nearly $18,000.00 towards a new metal roof on Mather Hall and the expansion of safety equipment throughout our property. We couldn't have done this without a number of people. Thanks to following for all you did to make this year's Gala a HUGE success.
Photography Sponsor:
**Every table will receive a bottle of Niobrara Valley Vineyard's Boss Cow compliments of Niobrara Valley Vineyards.
Dessert Auction Donors:
Grand Central Bakery
Studio City Cakery
Rabbit Hole Bakery
Perks
Taylor May
Karen Lindquist
Sysco
The Leadership Center
Golden Harvest Table Sponsors:
Westfield Quality Care of Aurora
Bronzed Bounty Table Sponsors:
Joel & Steph Miller and Friends
Aurora Cooperative
John & Maile Boeder
Special Contributors:
Aurora High School National Honors Society– waiters
Gene Wissenburg, Rich Douglass & Joel Douglass for providing music during the Cocktail Hour.
Mojo Filter for after dinner music.
Elite Event Rentals for linens, glasses and chargers.
Aurora News Register for invitations, posters, menu cards and program    covers.
AAA Events for the square tables.
Sysco
US Foods/The Thompson Company
Honeysuckle Lane
The Old Homestead Market & Floral
Auction Donors:
Touch of Health
Rose Chiropractic
Aurora Screen Printing
Creations Unlimited
Jane Nuss
Plainview FFA Chapter
Memorial Foundation
Edgerton Explorit Center
Honeysuckle Lane
Hamilton Telecommunications
Hamilton County Extension
The Old Homestead Market & Floral
Walter & Darlene Boeder
Lincoln Children's Zoo
Raising Canes
Ivanna Cone
Casey's
Courtyard Marriott
Larry the Cable Guy
Fehr's Farm to Fork
UNL Athletic Department
James Arthur Vineyards
Scheels
Entrap
Village Pointe
Todd Reed
Chicago Pizza Tours
Adam's Playhouse
Puzzah Escape
Preferred Popcorn
AEG Theaters
John & Maile Boeder
Jayson Havens & Jacob Penner
The Leadership Center
DONORS:
Dohman, Akerlund & Eddy
Cornerstone Bank
Aurora Insurance
Gene & Rhonda Ulmer
Aurora Screen Printing
T & M Inc
Grandview Café
Ron Tinkman
Friesen Ford
Richard Braasch
John & Maile Boeder
We also want to thank our entire team. You worked so hard to make this event happen. Whether it was building decor, setting up the event space, making food, or helping clean it all up, and put it away! We are so happy we got to work alongside each of you. We also thank our board, The Nebraska Vocational Agricutural Foundation, for your contributions too.
To see our donors and supporters from years past, please click on the links below.
2018
2017
2016
2015
2014
2013
2012
2011
2010
2009
2008
Again, we are so grateful for all the support we have received throughout the years and your continued support in the years to come. Thank you.