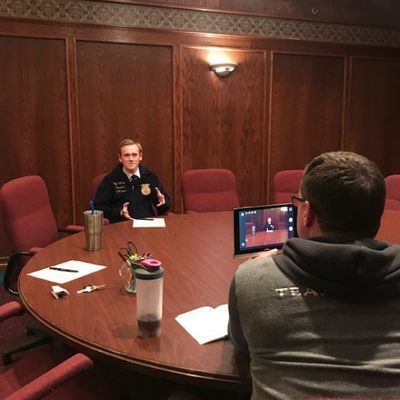 FLEET Consultation 
is our advanced leadership program tailored to clients seeking progression in interviewing skills, storytelling, and confidence. Our coaching process is crafted to prepare our clients for their specific goals.
Initially, it was designed for youth and young adults who are pursuing awards and honors which require interviews and/or extended oral evaluations. Scholarship applicants, pageant contestants, and organization officer candidates are ideal clients for a program like FLEET.
The FLEET process has been honed over nearly 15 years of working with individuals to prepare them for organizational leadership, awards, pageants, employment and media interviews, college selection processes, and more. Those involved with this process work with at least two or more of our team during their FLEET Consultations.
While we can't guarantee client's will succeed in the specific pursuit, we have found from all of our FLEET clientss who have fully committed themselves to the process, is that they have more confidence and know how to handle high pressure situations or times that have great importance to them. They gain interviewing skills and improve their storytelling abilities. Overall they feel prepared, confident, and ready.
FLEET Consultations are offered in 2 packages: 2 hours for $75 or 8 hours for $325. If more time is needed, customized packages can be built upon request.
To set up a FLEET consultation or to enroll in a FLEET class, call or email  Maile Ilac Boeder, IOM at 402-694-3934
"I would definitely recommend this experience to other people! I loved this interview because I was able to get practice in with people that didn't know everything about me. Growing up in a small town there are a lot of people that want to volunteer and help (which is fantastic), but when they are doing mock interviews it is difficult to get into my professional mode in order to get an effective interview." -Alexis Schmidt, FLEET Graduate

"When I asked Maile to assist with our local State Officer Candidate runoff, she offered to take care of it all. I'm glad I allowed her to handle it all.  Maile and her staff took care of the interviews and recommendation. That opportunity grew into another opportunity for our State Officer Candidate and one of our Proficiency Award Finalist to receive excellent training in interviewing.  My students learned how to pull experiences from their life and apply them to the questions being asked to make their story and their interview answers more credible.  From FLEET, my students were able to not only discover their strengths but understand how their strengths have developed them into the person they are.  They were also able to identify opportunities of areas they could develop and how improving those areas can impact all facets of their lives.  " Kurt VanDeWalle, Fillmore Central Agricultural Education Instructor and FFA Advisor

"I would definitely recommend FLEET to others because it was beneficial to practice on interviewing skills, and it was a great opportunity to build connections with staff at The Leadership Center. I now know amazing individuals who will always be there for me, whether it's direct help, or setting up dates and times to meet up with people, the staff at The Leadership Center are truly amazing."  -Tanner Nun, FLEET Graduate

"The 4-square exercise allowed me to evaluate myself and discover strengths and weaknesses which I never knew I had. This exercise was the one that helped me the most in my State FFA Officer Interviews. Highly recommend to keep on using this exercise!" -Tayte Jussel, FLEET Graduate