Culinary Programs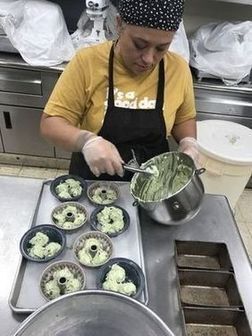 In 2019, we unveiled our kitchen to the public, debuting our Delectable Creations classes. Beyond mere cooking, these exclusive sessions offer a journey into culinary artistry, guided by The Leadership Center's seasoned staff.
The genesis of these classes arose from our team's vision for our kitchen—a vibrant space for learning, experimentation, and the pure pleasure of savoring delectable creations. Attendees not only gain insight from seasoned professionals but also engage in hands-on experiences, acquiring new skills and learning delicious recipes while enjoying food and, most importantly, having a blast.
In response to many requests for exclusive experiences, we expanded our offerings to include group classes and private bookings, which are known as Culinary Experiences. These tailor-made sessions elevate the culinary journey, allowing attendees to master the entire process from preparation, cooking, to enjoying the fruits of their labor, all within the company of their chosen group.
To ensure an intimate and personalized experience, we maintain small class sizes, capping groups at a maximum of 6 people. Yet, recognizing that exceptional occasions may warrant exceptions, we strive to accommodate larger groups when feasible.
Embark on a culinary adventure with our Delectable Creations and Culinary Experiences classes. Allow yourself to be guided by our expert team, and discover the joy of creating and indulging in exceptional food. Join us at The Leadership Center, where each class is an opportunity to turn ordinary moments into extraordinary culinary experiences.
Nearly every class from our Delectable Creations courses can be adapted to fit a Culinary Experience class. For more information on either opportunity, please call 402-694-3934 or email info@tlcaurora.org. Classes that are denoted with ** can be booked for offsite learning, perfect for classroom or office settings!
Some of our offerings include:
•Homemade Pasta
•Chicken Marsala
•Greek
•Homemade Pizza** 
•Surf & Turf: Steak & Shrimp
•Italian
•Campfire Cooking
•Pies: Learn to make pies 3 ways!
•Chacuterie Boards**
•Summer Salads
•Fruit Carving
•Crepes & Brunch
•Tempering Chocolate
•Gluten-free Desserts
•Meal Planning & Preparations
•Basics of Sushi
•Crockpot Meals
•Truffles
•Lacto-Fermented Foods
•Cookies & Frosting Galore**
•Shish Kabob & Beverage Pairs
•All the Apples!**
•Cupcakes - Oh My!**
We also offer Mini Chef Classes for classrooms, onsite learning and birthday parties!
Upcoming Classes & Registration BELOW!