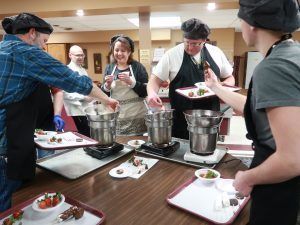 Culinary Programs
In early 2019, we began offering Delectable Creations classes to the public. Delectable Creations classes provide attendees the opportunity to learn from The Leadership Center staff and guests on a variety of culinary topics. The idea was born out of a discussion with one of our teammates who thought it would be incredible to turn our kitchen into a space to learn, try new things, have fun and of course, enjoy some delicous food. These classes are facilitated by our team and provide attendees the opportunity to learn from the pros, have a hands on experience in our kitchen, gain new skills and recipes, taste good food and have fun.
Since offering Delectable Creations classes, we have serveral of our guest ask about offering groups classes or booking private classes. For groups and private bookings, we now offer Culinary Experiences. Culinary Experiences offer attendees the opportunity of learning to prepare, cook, and enjoy an entire meal from prep to finish with their group and instructor. We prefer to keep these opportunities small, limiting groups to no more than 6 people, though if necessary and possible, we can make exceptions.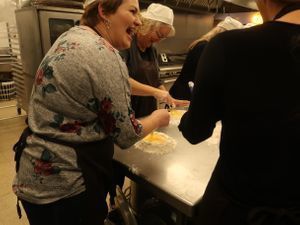 Nearly every class in our Delectable Creations Classes can be addapted to and booked for a Culinary Experience. For more information on either offering or to book an experience, please call 402-694-3934 or email info@tlcaurora.org. Some classes** can be conducted offsite.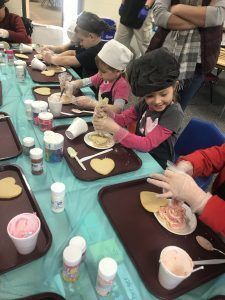 Some of offerings have been:
•Homemade Pasta     •Chicken Marsala     •Greek     •Homemade Pizza**     •Surf & Turf: Steak & Shrimp     •Italian     •Campfire Cooking     •Pies: Learn to make pies 3 ways     •Chacuterie Boards**     •Summer Salads     •Fruit Carving     •Crepes & Brunch     •Tempering Chocolate     •Gluten-free Desserts     •Meal Planning & Preparations     •Basics of Sushi     •Crockpot Meals     •Truffles     •Lacto-Fermented Foods     •Cookies & Frosting Galore**     •Shish Kabob & Beverage Pairs     •All the Apples!**     •Cupcakes-Oh My!**
We also offer Mini Chef Classes for classrooms, onsite learning and birthday parties!
Upcoming Classes & Registration BELOW!