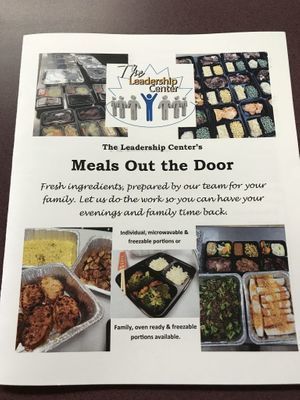 Meals Out The Door is our program that prepares delicious and healthy meals for people and families on the go. Our goal is to make meal time easy so you and your family can enjoy your time together. We'll prep, cook and package your meals in either oven/freezer safe containers or microwavable/freezer safe containers for you. You pick them up and enjoy.
Here's how it works:
Download the current Meals Out the Door order form, or checkout our new Online Ordering system!
To fill out the form:
Order minimum: 2 meals for at least 2 people each meal.
Write the number of people you'd like that meal prepared for. Meal counts can vary per meal, just note it by the meal. We will price your meals accordingly. It must be at least 2 servings per meal and no more than 12 per meal. **For more than 12, call for pricing.**
Choose 1 protein and 2 sides from the lists provided OR chose 1 One Pot Meal (O.P.M) selection for each meal.  If offered, please select marinade, sauce, meat, seasoning or dressing.
Choose either green lettuce salad OR a sweet dessert to accompany your entire order.
Please circle (F) for family style packaging or (I) for individual packaging. This can vary per meal.
If you have a dietary need such as gluten or lactose intolerant, low carb, etc., please note in the special dietary notes section. Our kitchen manager is happy to discuss your dietary needs as well.
Please note that breakfasts & smoothies, lunch & dinner, and bakery items vary in pricing.
Return order form to The Leadership Center or call order to 402-694-3934. You can also text completed order form to 320-420-6424.  Complete orders can be emailed to info@tlcaurora.org. Or for ease, you can simply order and pay online!
We will confirm order and order total upon receipt.
Pick your meals up at least 24 hours after your order or the time that you designated to pick them up at. All meals will be labeled and include preparation instructions. We suggest taking your meals home and either refrigerating them or freezing them immediately.
Enjoy your meals, smoothies and baked goods!
Order again.
Please note: Meal Pick-Up is available Monday- Friday from 7:00 a.m. to 7:00 p.m. and Saturday 8:00 a.m.- 3:00 p.m. There is no Sunday meal pick-up available. If you place your order on Sunday, the earliest available pick-up will be Tuesday. Thank you!
Of course, should you have any questions, we are absolutely happy to help!
Meal Minimums: 2 meals for at least 2 people each meal.
Meal Maximums: 12 people per meal. There is no maximum of meals that can be ordered. We do suggest, if you order than 7 meals, that you freeze the meals you aren't going to consume within the first week of your purchase.
Ordering Form:  We will change up menu offerings as in order to ensure you and your family have variety. If there is a meal you'd like to see on the menu, please let us know and we'll see what we can do.
Containers: Family style containers are recyclable. Individual containers can be reused. You can return clean containers to The Leadership Center. They will be sanitized and reused. All containers can be frozen.
Catering: We do onsite/offsite and pick-up & serve catering should you need any of these services.  Services vary from appetizers, baked goods (yes we can do your holiday goodies baking) to complete meal service and event planning and coordination. To inquire, please call our office at 402-694-3934 and ask to talk with Maile. Our kitchen is a licensed kitchen for both food production and catering.
So there you have it. It's pretty simple. You order. Our team prepares, cooks and packs it. You pick up and each night after a little warming in the oven, you and your family get your nights back over a delicious meal. Leave the shopping, chopping, cooking and pots & pan clean up to us. We are looking forward to serving you.
P.S. Truly, we are so excited about this program. Our goal at The Leadership Center is to create moments that matter. What's more important than the time you have with your family? Nothing. Thank you in advance for allowing us to serve you in your home.
Please note, orders must allow 24 hours from time of order to pick-up. Pick up can be done between 7:00 a.m. and 7:00 p.m., Monday-Friday and 8:00 a.m.-3:00 p.m. on Saturday. We do not do meal pick up on Sundays. Orders placed on Sunday can ready Tuesday. Thank you!