Nebraska Local Food + Farm Conference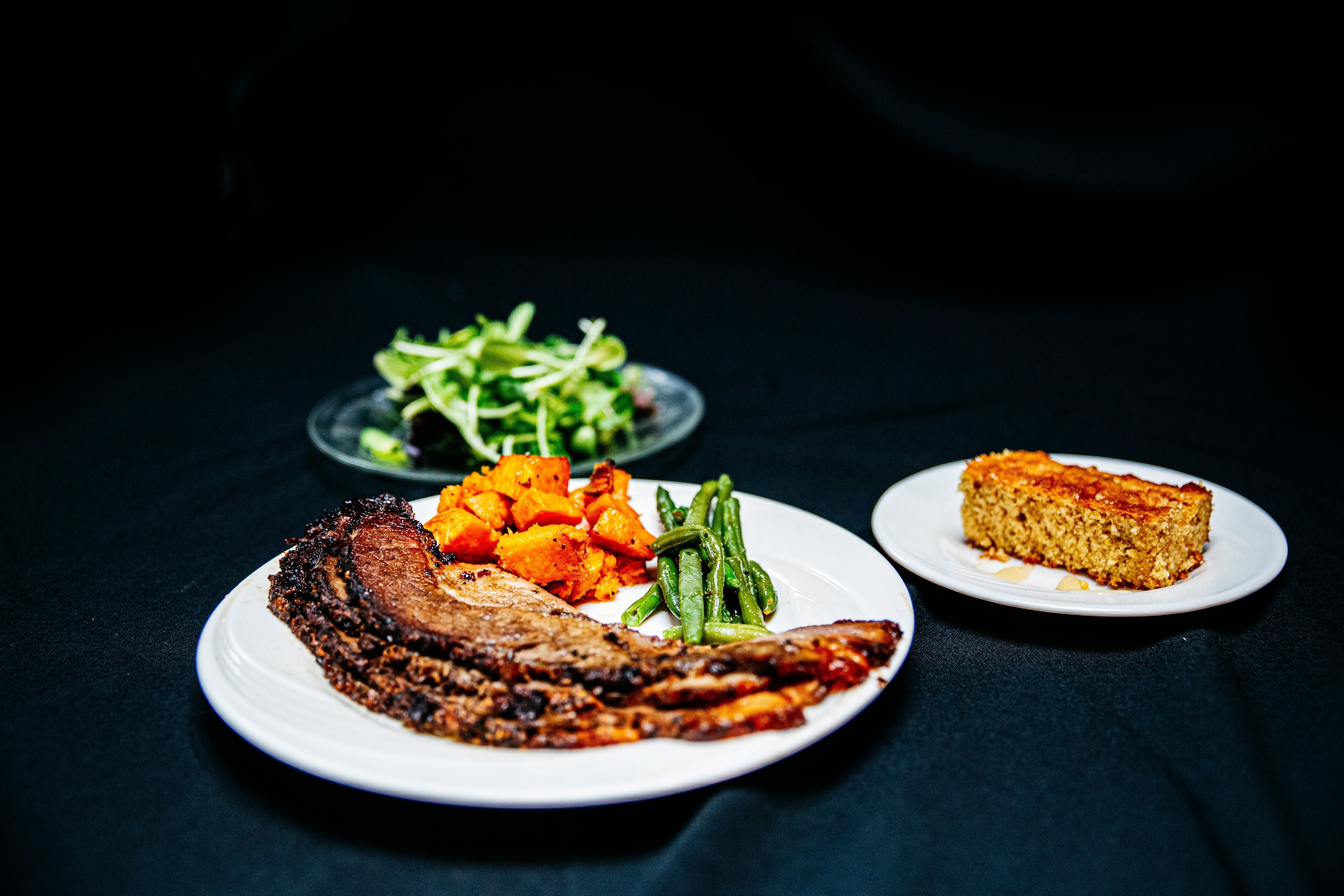 The first week of February, we had the opportunity to serve as the host site for the Nebraska Local Food & Farm Conference. They haven't been on property since 2003. 
The first day of the conference was conducted virtually. We were still very fortunate  to have a few that come to enjoy a viewing party. That night after they did a tour of The Grain Place, they came back to enjoy pizza and homemade ice cream.
The second day was all in person. It featured incredible speakers, opportunities to network with sponsors and other likeminded poeple, bid on an awesome silent auction and of course, enjoy some very delicous food!
For us, having guests utilizing the whole property was a treat. Some stayed with us and it was great. The other really cool thing we got to do was showcase our ability to cook and feed people. 
For this specific group, it was critical to their mission that we source as much of the food served from local vendors and NSAS members. John and Maile set out to do just that! Through many conversations, they were able to source numerous ingredients showcasing NSAS members and several local vendors.
We just so badly want to share with you the menues and vendors we were able to partner with for this event, so here they are:
Friday:
Pizza Party and Social Menu: Pizzas: Sausage & Cheese, Four Cheese, Pesto, Shitake Mushroom & Goat Cheese, Veggie Pizzas, Mixed Greens salad, Ice Cream and Basil Grapefruit Sorbet
Saturday:
Breakfast Menu: Cheesy Scrambled Eggs, Handformed Sage Sausge Patties, Bacon, Bacon Ends Sweet Potato & Potato Hashbrowns, Fresh Fruit, Sourdough Bread, Butter and Jelly.
Lunch Menu: Salad Bar featuring Mixed Greens, Spinach, Carrot Sticks, Cheese Curds, Micro Greens and dressing; Smoked Brisket, Diced Sweet Potatoes, Green Beans, Sweetcorn Corn Bread & Honey, Baba Ghanoush & Pita, Charcuterie Board with Sourdough, Blueberry Apple Crisp and Cantaloupe Lassi.
Snacks: Fresh popped popcorn, ice cream, and beverage station.
Ingredient Partners:
Boo's Chickens and Eggs-Brekyn Papineau, Aurora: fresh eggs
Dutch Girl's Creamery, Lincoln: Cheeses and Milk
The Edgerton Explorit Center, Aurora: Liquid Nitrogen
Erstwhile Farm, LLC: Sage Sausage, Bacon
The Grain Place, Marquette: Dried Blueberries, Honey, Wheat, Favorite Five
Paul & Dori Huenefeld, Giltner: Sweet Corn Meal, ground the wheat into flour
Jurena's Homegrown & Foraged, Crete: Shitake Mushrooms
Kopani, Grand Island: Vanilla Extract and Vanilla Bean
Northwest FFA Chapter, Grand Island: Lettuce
Pekarek's Produce, Dwight: Carrots
Prairie Plate Restaurant/Lakehouse Farm, Waverly: Baba ghanoush, cantaloupe, dried tomatoes
Preferred Popcorn, Chapman: Popcorn
Range West Beef, Marquette: Brisket
Robinette Farms: Micro Salad Mix & Spinach
ShadowBrook Farm, Lincoln- Sweet Poatoes
Summer House Kitchen, Aurora: Jellies
The Boeder Family, Aurora: micro greens and sourdough bread
Sysco Foods
Each meal started with sharing the menu in with efforts to be transparent, Executive Chef John shared with all where all their food came from. Then everyone came through the lines to dig in and enjoy their meals.
As a team, we had a blast with this event. We had the opportunity to learn, work with new ingredients and to showcase them. 
Overall the conference was a success on so many levels. We are so grateful to the vendors that worked with us. A special thank you to Chef Renee Cornett of Prairie Plate Restaurant for all the extra work you did to help us source everything. 
It was a joy creating moments that matter for the Nebraska Local Food + Farm Conference.